Ben E. Ryan Jr.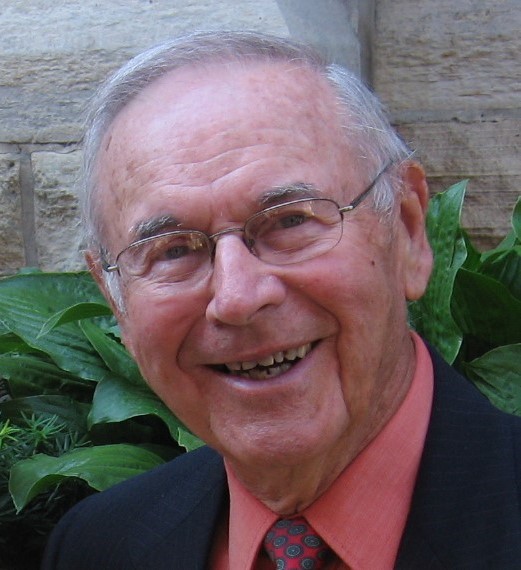 February 7, 1929 ~ May 6, 2023
Born in: Waterloo, IA
Resided in: New Hampton, IA
Ben E. Ryan, age 94, of New Hampton, Iowa passed away on May 6, 2023, at the New Hampton Nursing & Rehab Center as a result of colon cancer.
Ben was the son of Ben E. Ryan, Sr., and Martha L. (Haker) Ryan. He married the love of his life, Mary C. Bockenstedt, in 1952 and they had three children: Ron (Lucy) Ryan of St. Louis, MO, Tom (Nancy) Ryan of New Hampton, IA, and Ann (Jeoff) Block of West Des Moines, IA. He has six grandchildren: Angie (Jason) Gibson of Boone, IA, Jenna (Kris) Feldmann of Washington, MO, Ted Ryan, and Max (Amy) Ryan of St. Louis, MO, Ashley (Sam) Myers of Waukee, IA, and Jacob (Tori) Block of Van Meter, IA. He has six great-grandchildren: Logan and Bryce Gibson, Abby and Audrey Feldmann, and Charlotte and Oscar Ryan. He is preceded in death by his parents and stepmother, his wife, Mary, and his sister, Genevieve.
Ben was born February 22, 1929, in Waterloo, IA, near the beginning of the Great Depression. At age 9, his father became unable to walk, which caused the family to move-in with Grandpa Frank Haker on the farm. A year later, his parents & sister moved-in with Grandparents Harry & Alice Ryan, and Ben moved-in with Uncle Chuck's family on the farm for eight months to complete fifth grade with country school classmates. When Ben was 11, his father was able to obtain a desk job in Greeley, IA, and they finally had a home of their own. At age 16, his mother died from a surgery complication. During his junior & senior years, Ben drove a country school bus for Greeley Consolidated School students.
Following high school, Ben became manager trainee with Farmers Lumber & Supply Co. at Farley, IA, Northwood, IA, Brookings, SD, and was promoted to manager of the Earlville, IA yard.  He served proudly in the U.S. Army during the Korean War as a Special Agent with the Counter Intelligence Corps. After military service, he worked at the Fayette Co. Loan Co. in West Union, IA, which prepared him to launch the Family Loan Service, Inc. in 1953 in New Hampton. He sold the loan business in 1960 and became Secretary-Manager of the Chickasaw Mutual Insurance Association in New Hampton. He later created the Ben Ryan Agency to provide insurance protection that complemented the Association.  After 32 years, Ben retired as President of Chickasaw Mutual Insurance Association in 1992, and sold his business to son, Tom.
Ben was a New Hampton ambassador – active in community and business affairs. He served on the boards of the Mutual Insurance Association of Iowa, New Hampton Chamber of Commerce, New Hampton Rotary Club, People's Mutual Savings and Loan Association, New Hampton Pleasant Manor Corporation, New Hampton Public Library, and Chickasaw Mutual Insurance Association. He was past president of the New Hampton Chamber of Commerce, and the New Hampton Rotary Club.
There wasn't a parade, fish fry, pancake breakfast, or church supper that Ben would miss. Between Rotary and the New Hampton Chamber of Commerce, he was always buying or selling tickets. One of his proudest accomplishments was in 1978, when he led a successful "Operation Rescue" drive to fund emergency heart respiratory equipment used by the local ambulance service. Highlights also include administering the Rotary Club's student loan program for many years, and renovating Calvary Cemetery after years of neglect.  Ben was presented Rotary Club's "Paul Harris Fellow" award (and was a 60-year member) and was named "Boss of the Year" by the Jaycee organization in 1978.
Ben & Mary were members of St. Joseph's Church (now Holy Family) since moving to New Hampton in 1953. Ben enjoyed a wonderful retirement, including golf and euchre with friends. Most of all, he loved and was proud of his family. We miss him greatly.
Visitation will be Friday, May 12 from 4-7 p.m. at Conway Markham Funeral Home in New Hampton.  Funeral mass will be held at Holy Family Parish in New Hampton on Saturday, May 13 at 10:30 a.m. with viewing one hour before mass in the church gathering space. In lieu of flowers, the family requests that memorial contributions be made to: New Hampton Rotary Scholarship Fund, New Hampton Rotary Club, PO Box 445, New Hampton, IA, 50659.
Services

Memories Timeline
Guestbook
---