Celia Manderfield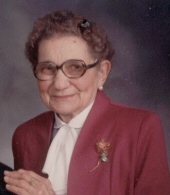 May 30, 1908 ~ January 19, 2008
Celia Manderfield, age 99, died Saturday, January 19, 2008 at the New Hampton Nursing and Rehab Center in New Hampton.
Celia Alice (Kurash) Manderfield was born May 30, 1908 to Albert and Alice (Barloon) Kurash on a farm near Jackson, Minnesota.  When she was five years old the family returned to the family farm near Waucoma.  Celia attended St. Marys Catholic School in Waucoma.  She later attended Dubuque Academy of Sewing.  Celia was united in marriage to William Manderfield, of St. Lucas, on January 31, 1928 at St. Marys Catholic Church in Waucoma and celebrated 73 years of marriage.  After their marriage the couple farmed north of Lawler until purchasing their farm near Riley Ridge where they lived until retiring in 1974.  They then moved to New Hampton where Celia has lived ever since.  She entered New Hampton Rehabilitation and Care Center in 2002.
Celia enjoyed traveling, baking, canning, gardening, sewing, polka music and playing bingo.  She especially enjoyed her grandchildren and her faith.  She was a member of St. Josephs Catholic Church, Catholic Daughters, and Rosary Society.
Celia is survived by one son DeVere (Virginia) Manderfield of St. Lucas and one daughter Germaine Klotz of New Hampton; 15 grandchildren; 32 great grandchildren; one great great grandchild; sister Agnes Lynch of Waucoma; son-in-law Clarence Haugen of New Hampton; sister-in-law Gertrude Kurash of New Hampton; and numerous nieces and nephews.  She is preceded in death by her parents; husband William who died on January 31, 2001, one son Joseph, one daughter Beverly Haugen, one brother Louis Kurash and two sisters Helen Tomasek and Lorraine Schmitz.
Cemetery:
Burial will be in Calvary Cemetery at New Hampton with Ron Haugen, Roger Haugen, Rick Haugen, Loren Manderfield, Don Manderfield and Jim Manderfield serving as casket bearers.
Visitation:
Visitation will be 3:00-7:00 pm on Monday, January 21, 2008 at Conway-Kolbet Funeral Home with a Rosary at 4:00 pm and Scriptural Wake Service at 5:30 pm and will continue one hour prior to the service at the church.
Service:
Mass of Christian Burial will be 10:30 am, Tuesday, January 22, 2008 at Holy Family Parish, St. Josephs Center in New Hampton with Msgr. Carl Schmitt celebrating mass.  rn
Memories Timeline
---