Kathryn C. Buckley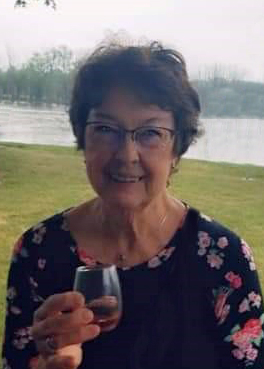 May 13, 1948 ~ April 1, 2023
Born in: Cresco, IA
Resided in: Elma, IA
Kathryn C. Buckley, age 74, of Elma, IA passed away on April 1, 2023 at MercyOne North Iowa in Mason City, IA with her family by her side.
A private funeral mass will be held Tuesday, April 11, 2023 at Our Lady of Lourdes Catholic Church in Lourdes, IA with Father Jerry Kopacek celebrating the mass.  Burial will be held at Holy Cross Cemetery in Schley, IA.  Online condolences may be directed to www.conwaymarkham.com.  Memorials may be directed to American Cancer Society's  Relay for Life.
Kathryn Cecelia was born May 13, 1948, the daughter of Albert and Grace (Svoboda) Andera in Cresco, IA. She attended and graduated from Cresco High School. After graduating, Kathryn went on to obtain her LPN. She worked as a nurse in Iowa City and then Mason City.  While out with her sisters at a dance at the Innwood Ballroom in Spillville, Kathryn caught the eye of Thomas Buckley…and their story grew from there. The couple were united in marriage on October 15, 1971 at Holy Cross Church in Schley, IA. They made their home in rural Elma, IA where they welcomed their three children, Amy, Chad and Todd. For nearly 52 years, Kathryn worked side by side with her husband on their family farm.
Most importantly, Kathryn was a selfless woman always putting everyone else ahead of herself. She was a hardworking farm wife that always had the cabs and windows clean on all the red machinery in the spring and fall. She was the best mom (aka "Dave"…because she was always making sure her 3 little chipmunks were cared for) her kids could have possibly had.  She made sure to equip them with what's needed to "keep moving forward" in life. She was also a mom to more than just her own children, being that person to fill their needs too. She was that listening ear and lifeline to talk sense into those closest to her. She was a caretaker of all the furry animals that needed help, always having a treat nearby to brighten their day too. She loved her husband, her kids, her extra (honorary) kids, her siblings, her close friends, and the farm with her flowers, plants, garden, and yard that she had to keep just a certain way. Her travels during her younger years turned into a love for planning family vacations out West that will always be remembered. During this tough time, mom has shown us she is still close at hand when we all need that listening ear and lifeline to talk sense into us. We should take comfort in knowing mom finally made it to her 'Mountain Retreat' and is waiting for us.
Kathy is survived by her loving husband Tom.  She lives on through her three little chipmunks Amy Buckley, Chad (Shelley) Buckley, and Todd Buckley.   She cherishes her honorary daughters Kelsey Andera and Kimberly (Scott) Fett.  She treasured her granddaughter Miranda (Chad & Shelley).  She lives on in the minds, hearts, and actions of her siblings Mary Ann Andera, Norma (Al) Hoerler, Rita (Quinten) Pitzen, Marvin (Marti) Andera, and Don (Donna) Andera.
She joins her father and mother, Albert and Grace Andera, in heaven.
We love you…wife…mom…grandma…daughter…sister………..angel.  Until we see you again……
Memories Timeline
Guestbook
---