Richard J. Lenehan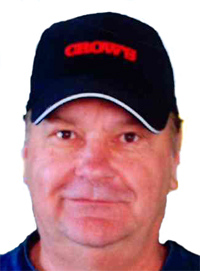 December 28, 1955 ~ March 26, 2023
Richard James " Beard" Lenehan, age 67, of Lourdes passed away peacefully at his home on March 26, 2023.
Mass of Christian Burial will be held at 11:00 a.m. on Friday, March 31, 2023 at Our Lady of Lourdes Church, in Lourdes, IA with Father Jerry Kopacek celebrating the mass.  Burial will be held at Our Lady of Lourdes Cemetery in Lourdes.  Visitation will take place from 4 to 7 p.m. on Thursday, March 30, 2023 at Our Lady of Lourdes Church in Lourdes, with a scriptural wake service at 4:00 p.m.  Online condolences may be left at www.conwaymarkham.com.  Memorials may be directed to the family.
Richard was born December 28, 1955, the son of James and Geraldine (Chihak) Lenehan in New Hampton, IA. He graduated from New Hampton in 1974, where he was awarded "best hair" and best looking in his class. He was married and the couple welcomed their four children, Lacey, LeAnn, Lonny and Lindsey. The couple later divorced.
He was known as "Beard" to many.
He held a variety of jobs including construction, working for DOT, truck driving and of course farming.
He was active in farming almost his entire life. He made many memories with his kids on the farm, picking rocks in the summer, getting the planters ready for spring, and teaching his kids how to drive and operate machinery in the fall. When talking about his tractors "if it ain't red keep it in the shed."
He was known for his famous lemon bar recipe and made sure to tell you how to make it not once but twice.
He enjoyed playing cards, watching the Cowboys, watching Nascar and phone calls with anyone that would listen (probably solving world problems).
He is survived by his children, Lacey Greer (Tony) of Cresco, LeAnn Shekleton (Shane) of New Hampton, Lonny Lenehan (Kelsey) of Cresco, Lindsey Wulff (Dylan) of Charles City; grandchildren Aubrey, Liam, Logan, Shyann, Aiden, Emma, Ila, Kinsley and Kashton; siblings, Rosanne Schultz, Rosalee (Denny) Lechtenberg, Randy (Patty) Lenehan, Rodney (Cindy) Lenehan,  Robert (Cindy) Lenehan, Roger Lenehan, Ronald (Mark) Lenehan, Raeanne (Russ) Obermeier, and Renee Lenehan; many nieces and nephews.
Preceded in death by his parents, James and Geraldine Lenehan.
Services
Memories Timeline
Guestbook
---